Let the Sun Shine In with Window Cleaning Services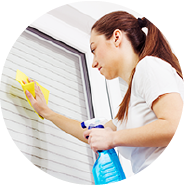 It's official: Winter is over and spring has started. Soon there will be longer days, plenty of sunshine, and a return to warm weather activities.
Springtime in Florida isn't all that different than winter, but there are subtle changes. One of the most noticeable is the change in the angle of light. In spring, light flows more directly into buildings, rather than at an angle like during winter.
The time for window cleaning is right now, before the busy summer begins. When you have professional window cleaning services from Posh Home, you can fully appreciate the sweet spring sunshine.
Window Cleaning Highland Beach — One-Day Service
At Posh Home, we usually can complete all of your windows inside and out in just one day. We will dispatch our team of highly-trained, professional window cleaners to your home or business to provide with perfectly clear, streak-free windows that offer full sunlight and maximum light to stream into your building.
Our window cleaners can come while you are home or while you are out. They provide non-intrusive, comprehensive window cleaning for every window in your home or business without getting in your way.
Window Cleaning Highland Beach — Positive Energy and Good Vibrations
It's only natural to respond positively to natural sunlight. If your windows haven't been cleaned all winter, they may be streaked, have a layer of dirt or sand, and create a filter between the people inside the building and the outside natural world.
With just one visit, our professional window cleaners can remove any and all dirt, leaving you with perfectly clear and clean windows that allow for maximum sunlight.
This spring, celebrate the change in seasons by having professional window cleaners from Posh Home come to your home or business. We will not only improve the way your interior looks but can optimize the mood of the people inside as well.